[Xangle Originals]
By Crypto_Gang
Translated by LC
Summary
Cardano (ADA) reached a major milestone after launching the Alonzo upgrade that brought smart contract features to its blockchain, but the price declined by 61% since the upgrade as no dApps have been launched
Why no dApps? 1) Cardano uses Haskell, a rather unpopular programming language amongst developers, 2) Concurrency issue, 3) The official release of ERC-20 converter is still long way off
Cardano's massive market cap of $36B reflects expectations for the project, so 2022 is anticipated to be a productive year for Cardano with the release of 12 dApps including SundaeSwap in 1Q22
*Note:  Cardano is a blockchain network and ADA is the network's native cryptocurrency
ADA holders had high hopes for finally entering the world of smart contracts via the Alonzo upgrade on Sep 12, 2021. In the first half of 2021, institutional and retail investors have joined forces to drive the price of ADA higher. As a result, it reached a new high of $2.97, up 1590% from its 2021 low. Due to this upward trend in ADA, Cardano overtook the Binance Coin and Solana to become the third largest cryptocurrency by market cap.
However, dApps are yet to be released on the Cardano network even after the Alonzo upgrade. The chart below well portrays the huge disappointment of ADA holders. After the Alonzo upgrade, ADA's price has steadily declined and plunged to $1.1, a 61% drop from its previous highs. While cryptocurrencies have been largely flat in general, ADA's price drop from its peak is far greater than others during the same period, such as Bitcoin (-39%), Ethereum(-26%), and Binance Coin (-25%).
Then what is the reason behind Cardano's lack of dApp offerings?
1) Cardano uses Haskell, a widely unpopular programming language amonst developers
Cardano developed Plutus, the smart contract platform for Cardano, which draws from a functional programming language Haskell that can enable a high degree of formal verification. Having witnessed the massive exploit on the Ethereum dApp DAO Maker in 2017, Cardano chose a highly functional programming language to create secure programs. The problem is that Haskell is way too difficult and complicated to be used as a programming language. Haskell is certainly not widely picked up by the developers and in fact, the PYPL ranks Haskell as the 26th most-searched-for language. For this reason, Cardano perhaps had difficulties to recruit enough number of dApp developers.
2) Concurrency issue
Cardano has faced criticisms after reports of concurrency issue as developers highlighted that it disallows users from using multiple smart contracts simultaneously. Unlike Ethereum's UTXO model, Cardano uses an eUTXO (extended Unspent Transaction Output) model. Simply put, the Ethereum's model operates like a bank account in that only the amount required to pay for something from the user's account is withdrawn, whereas for Cardano, whenever a user sends cryptocurrency, the entire balance is sent with the transaction and then gets immediately returned to the original user. So, when a transaction that receives the entire balance takes place, it makes it more difficult to use a program that can be used by multiple people at the same time. This is because each user has to wait for the other user to complete the transaction to make the transaction happen. For this reason, dApp developers had to dedicate a large amount of time in solving the concurrency issue for each dApp, consequently delaying the dApp release schedule.
 (Let's take a closer look at the pros and cons of Ethereum's UTXO model and Cardano's eUTXO model in the next article.)
3) The official launch of ERC-20 converter is still a long way off
When Ethereum launched its first smart contract platform, every renowned dApp developer was within the Ethereum ecosystem, thus many mainnets created since tried to attract those dApp developers within that Ethereum ecosystem. In the case of Solana, it developed the mainnet to be compatible with the Ethereum development tool EVM (Ethereum Virtual Machine), powered by a technology called Wormhole.
In an effort to attract dApp developers to its network, Cardano announced that it would release an ERC-20 converter, which became available on the testnet not so long ago on Dec 7, 2021. The official launch of the ERC-20 converter is still a long way off, and the delays to the ECR-20 converter are also delaying the migration process of the Ethereum ecosystem's dApp developers to the Cardano network.
Of course, the size of the dApp ecosystem does not necessarily determine the value of cryptocurrency. However, in a situation where the value of cryptocurrency is still being considered as an insignificant currency, there are currently no use cases for cryptocurrencies other than DeFi and NFT. In this context, dApps are no doubt an essential element for the cryptocurrency of the present.
Other Layer 1 blockchains such as Solana, Avalanche, and Phantom released the mainnets in 2020 have already integrated smart contracts to launch dApps. There are still questions about level of decentralization of these mainnets, but they are actively being used via various dApps. On the other hand, it is understandable that the crypto community is frustrated that the developments are taking too long and that the Cardano dApps are still on the distant horizon when the mainnet was launched in 2017.
Although Cardano has missed several criticial deadlines in the past, it is still one of the top 10 networks backed by a massive market cap, so in that sense, Cardano might still have the chance to redeem itself. Cardano founder Charles Hoskinson addressed that various dApps are expected to launch in 2022, including 12 dApps in Q122. In addition, after months of anticipation, SundaeSwap will finally go live on Cardano within a few days.
Will Cardano be able to release killer dApps this year that would lead the growth of the network's ecosystem? It remains to be seen whether 2022 would be a more productive year for this ecosystem to finally reward the ADA holders via the launch of dApps.
Get the data analysis report as well as the general overview from Xangle Crypto Rating
Xangle conducted a thorough analysis and evaluation on Cardano. You can check a detailed analysis report of the project as seen on the summary page of Cardano below. For those who are curious about each project's  technology, token economics, and milestones, please check out the Xangle Crypto Rating (XCR) report for more details.
Xangle Crypto Rating 
Cardano (A+, Score: 76) - Link
XCR Summary page (image)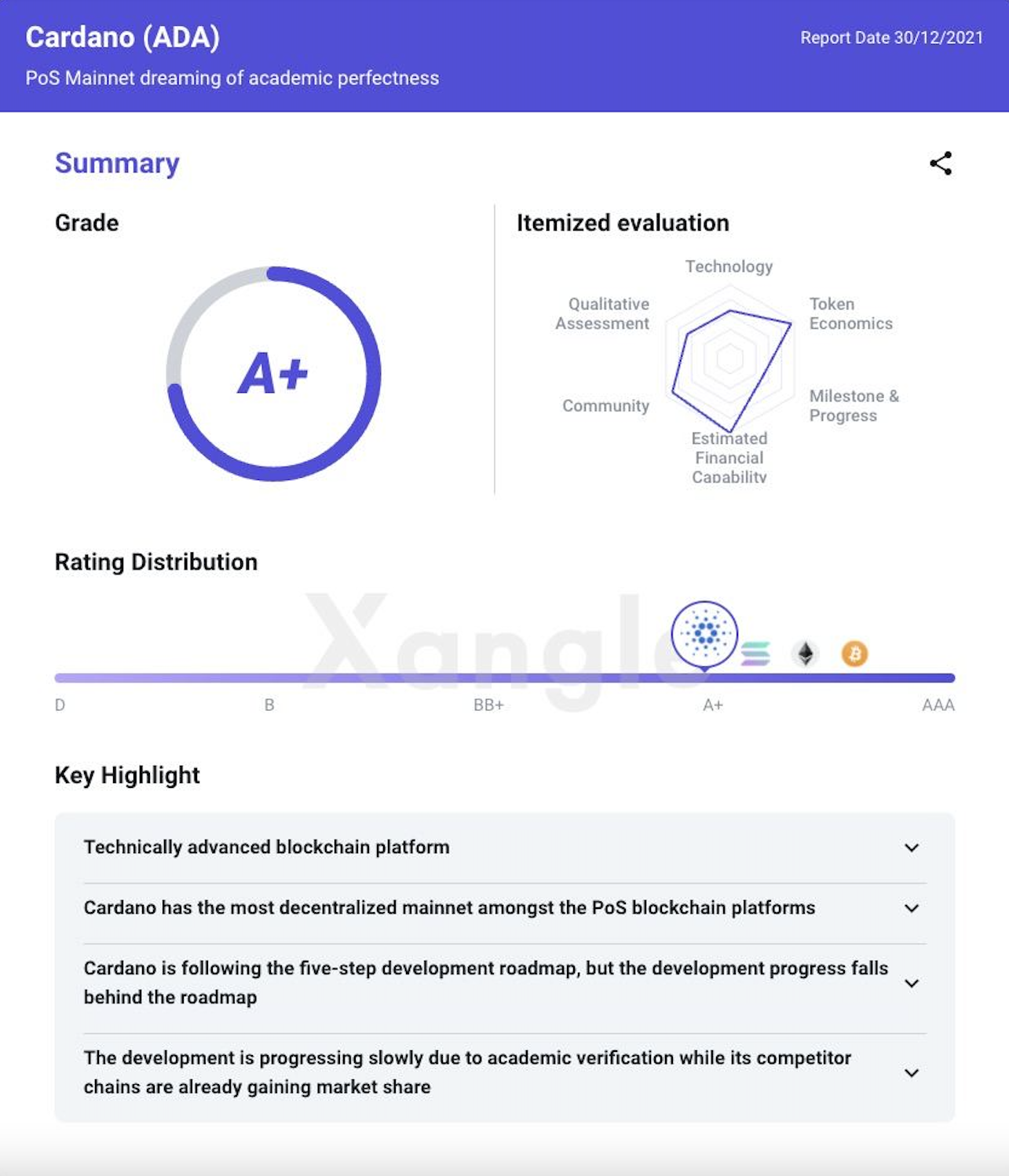 Xangle or its affiliated partners own all copyrights of the written or otherwise produced materials and content provided on the platform. Any illegal reproduction of such content, including, but not limited to, unauthorized editing, copying, reprinting, or redistribution will result in immediate legal actions without prior notice.