Decentralized Exchanges: A Conversation With 0x Labs' Clay Robbins
The following is an interview we recently had with Clay Robbins, Head of Growth at 0x Labs.
What's your background? How did you get involved in crypto/blockchain?
CR: Before joining 0x Labs, I studied Economics with an emphasis on both International Trade and Financial Intermediaries & Markets at Dartmouth College. Following graduation, I spent over 4 years working at Square, a payments startup focused on enabling small businesses in the US, Canada, Japan, Australia and the UK to accept credit card payments. I started my tenure building and managing our strategic partnerships with financial institutions across our payments supply chain (acquiring banks, card networks, and issuers) and then moved into the product organization to help build Square's new business banking products like the Square Card.
Though I was introduced to Bitcoin during college, in 2014 while at Square there was a small but passionate group of people who viewed it as a prospective alternative to the traditional payments rails that powered Square. As the space matured over the next four years, I realized the opportunity that existed to begin working on products that could help reshape the financial institutions and markets that I'd studied in college and dealt directly with during my time at Square. In 2018, I decided to leave Square to dive into the space full time and join 0x Labs.
What value does 0x Protocol bring to users?
CR: The protocol enables any developer in the world to build exchange functionality into their product or service with just a few lines of code, allows market makers to gain exposure to the opportunities on nascent p2p markets, and users to trade any form of tokenized value.
Today, 0x has enabled nearly $17B to be traded over the network across 250,000 unique traders and powers some of the most important applications in DeFi including Metamask, Shapeshift, Matcha, DeFi Saver, Zapper, and many more. Additionally, ZRX (0x Protocol's native token) holders have earned nearly $1.3M in fees by staking the token and providing liquidity on the network.
Where do you see 0x Protocol five years from now?
CR: I believe 0x Protocol will serve as the core layer for exchange in decentralized finance and likely the default entry point for institutional market makers, developers, and users on a global scale. By 2026, I would be thrilled to see daily trade volumes on 0x consistently exceeding those seen on centralized exchanges today. To accomplish this, I believe products like Matcha (built by 0x Labs) as well as other 3rd party DeFi applications within the 0x ecosystem will need to continue creating unique and compelling product experiences that will scale by several orders of magnitude to reach the user base necessary to drive this growth.
What are the most common misconceptions you hear about decentralized exchanges?
CR: The two most common misconceptions I hear are that DEXs are illiquid venues for exchange and are difficult to access. While this was true in 2017, DEXs in 2021 are facilitating more volume across more markets than many centralized exchanges and with products like Matcha (built by 0x) differences in UX & UI are nearly impossible to notice (aside from the fact that you don't have to trust the exchange with your funds).
A third that I'll add is scalability - though high gas environments make trading small dollar values inefficient, I believe in the coming years we'll see several solutions released that will mitigate this risk entirely while maintaining the security needed for markets to mature.
What's next for decentralized exchanges in 2021?
CR: In 2021 we'll see the core user base of centralized exchanges begin to migrate their activity to decentralized exchanges. This includes both retail traders along with some of the largest institutional market makers.
Today, DEXs are collectively seeing ~7-15% of daily CEX volume in spot markets, but as user experiences continue to improve, liquidity sources become more diversified, and the pace of innovation in DeFi is recognized by mainstream users, we'll see these percentages rise significantly.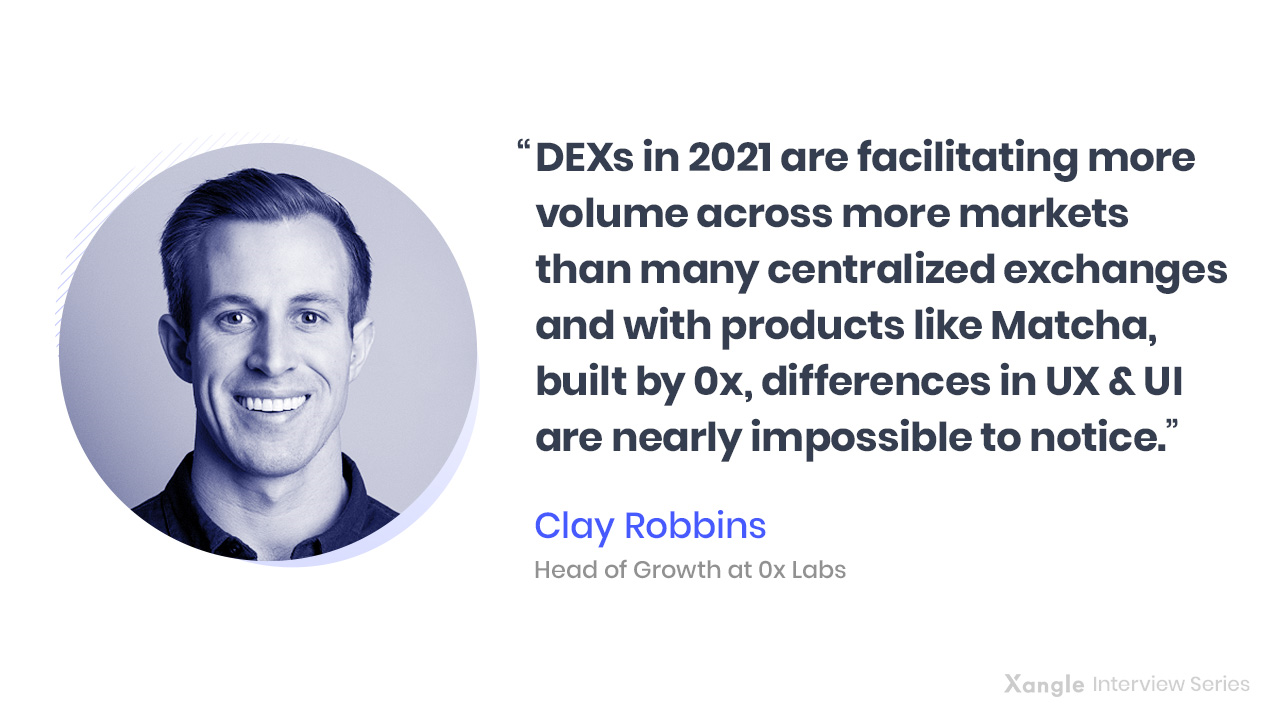 본 제작 자료 및 콘텐츠에 대한 저작권은 자사 또는 제휴 파트너에게 있으며, 저작권에 위배되는 편집이나 무단 복제 및 무단 전재, 재배포 시 사전 경고 없이 형사고발 조치됨을 알려드립니다.